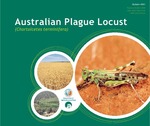 Files
Download
Download Complete Bulletin (1.2 MB)
Abstract
The Australian plague locust (APL) is the most economically important grasshopper in Australia. The immature hopper stage damages mainly pastures in farming areas, and gardens and lawns in domestic areas. They tend to avoid established green crops, although the edges of crops can be damaged. Adult locusts can form swarms and fly into other areas, damaging pastures, ripening cereal, lupin and pulse crops, grapevines, fruit trees and native tree seedlings. If crops have completely dried off before locusts begin flying, the possibility of damage is considerably less.
Disciplines
Biosecurity | Entomology
Recommended Citation
Department of Agriculture and Food, WA. (2006), Australian plague locust (Chortoicetes terminifera). Department of Primary Industries and Regional Development, Western Australia, Perth. Bulletin 4691.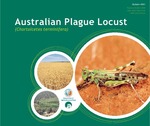 Included in
COinS