Preview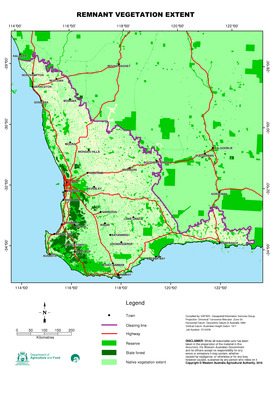 Description
A dataset containing vegetation extent polygons from the mapping of remnant vegetation in Western Australia.
This was originally compiled as part of the vegetation theme of the National Land and Water Resource Audit (NLWRA). The dataset has been progressively updated by the Department of Agriculture and Food post-NLWRA with assistance of the Department of Environment and Conservation. This has been carried out using digital aerial photography (orthophotos) acquired 1996 to 2016.
A copy of the data set is available from the WA Shared Land Information Platform (SLIP) and data.wa.gov.au.
Recommended Citation
Geographic Information Services, D. (2016), Remnant native vegetation extent in the south west Western Australian agricultural area. Department of Primary Industries and Regional Development, Western Australia, Perth. Map.