Volume 4, Number 1
January, 1963
Front Matter
Articles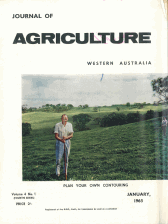 Editor: E.H. Lawson
Cover: 'Self help' in contour surveys has been advocated by the Department of Agriculture's Soil Conservation Service for the past 10 years. One of many farmers to follow the Service's advice is Soil Conservation Advisory Committee Chairman E.H. Lee Steere, pictured at work with the hose level on the slopes of his porperty 'Hawthorne' Toodyay.
Much of the sloping land on Mr Lee Steere's property is protected by contour banks, some of which can be seen in the background.
An article in this issue explians how farmers can do their own contour surveying. Advice on this and other aspects of soil conservation is freely available from the Department of Agriculture.
Disclaimer
The Chief Executive Officer of the Department of Agriculture and Food, Western Australia and the State of Western Australia accept no liability whatsoever by reason of negligence or otherwise arising from the use or release of this information or any part of it. The information in this journal was correct at time of publication. For updated and current information please go to the department's website at https://www.agric.wa.gov.au