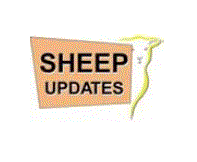 Title
Document Type
Conference Proceeding
Publisher
Department of Agriculture and Food, Western Australia
Publication Date
30-8-2016
Keywords
sheep meats, consumer, Robotics and automation, risk management, budget, specialisation, Farm advisory boards, family businesses, succession, pasture growth, feed requirements, Pastures from Space, lamb, MIDAS model, sheep, cropping, Tri-Lamb Group, US import tariffs, young sheep producers, Dorper Lamb brand
Abstract
This session covers eleven papers from different authors:
1. Forward, Dr Bruce Mullan, Director Sheep Industry Development, Department of Agriculture and Food Western Australia
2. The Australian sheep industry in 2025, Mick Keogh, Australian Farm Institute
3. Decision making in a risky environment, David Cornish, Cornish Consulting
4. Business Transitioning, Michael Chilvers, Nile Tasmania
5. Advisory Boards in WA Agriculture - making life 'easier' for everyone, Gerry Hinkley, Producer, Tincurrin and Danielle England, Aginnovate
6. Principles of Successful Family Business Succession Strategies, Rosemary Bartle, Succession Planning Facilitator, Rabobank
7. Diversifying the Feedbase...is the grass really greener? Brad Wooldrige, Producer West Arthur, Dr Norm Stantich, Landgate
8. Seasonality of Lamb Supply - Have We Interpreted the price signals? John Young, Farming Systems Analysis Service
9. A comparative analysis ising Gross Margin for grain and sheep enterprises, Ashley Herbert, Farm Management Consultant, Agrarian Management
10. Tri Lamb Focus Program, Jamie Heinrich
11. The Dorper Lamb Story, Graeme Howie
Recommended Citation
Keogh, M, Cornish, D, Chilvers, M, Hinkley, G, England, D, Bartle, R, Wooldridge, B, Santich, N, Young, J, Herbert, A, Heinrich, J, Howie, G, and Mullan, B. (2016), Sheep Updates 2016. Department of Agriculture and Food, Western Australia, Perth. Conference Proceeding.