Preview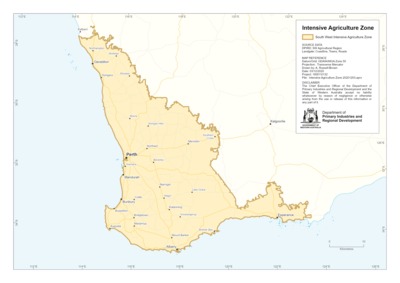 Description
The zone managed for intensive agricultural activities in South-Western Australia. Also known as the South West Agricultural Area or Clearing Line.
This zone defines the easternmost extent of land cleared for agricultural purposes.
Base data sets: Western Australian Land Information Authority - Captured from photographic interpretation of best available orthophotography at date of capture, dates range between 2007 and 2010.
A copy of the data set is available from the WA Shared Land Information Platform (SLIP) and data.wa.gov.au.
Recommended Citation
Geographic Information Services, D. (2016), Intensive land use zone of south west Western Australia. Department of Primary Industries and Regional Development, Western Australia, Perth. Map.