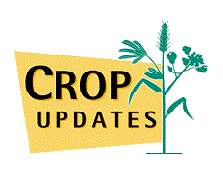 Document Type
Conference Proceeding
Publisher
Agriculture Western Australia
Publication Date
16-2-2000
Keywords
wheat, yield, breeding, rust, nutrition, controlled traffic, raised beds, nitrogen, fertiliser, plastic-coated Urea, placement, fertiliser, timing, Potassium, leaf diseas, trace elements, nutrient, accumulation, depletion
Abstract
This session covers eleven papers from different authors:
PLENARY PAPERS
1. New Wheat for a Secure, Sustainable Future, Timothy G. Reeves, Sanjaya Rajaram, Maarten van Ginkel, Richard Trethowan, Hans-Joachim Braun, and Kelly Cassaday, International Maize and Wheat Improvement Centre (CIMMYT)
2. Managing Cereal Rusts - a National Perspective, R.A. McIntosh, University of Sydney Plant Breeding Institute, New South Wales
3. Managing Cereal Rusts in 2000 - a regional imperative, R. Loughman, Agriculture Western Australia
4. Is nutrition the answer to wheat after canola problems?Ross Brennan1, Bill Bowden1, Mike Bolland1, Zed Rengel2 and David Isbister2 1 Agriculture Western Australia 2University of Western Australia
5. Improved Sandplain Cropping Systems by Controlled Traffic, Dr Paul Blackwell, Agriculture Western Australia
6. Raised bed farming for improved cropping of waterlogged soils, Derk Bakker, Greg Hamilton, David Houlbrooke, Cliff Spann and Doug Rowe, Agriculture Western Australia
7. Banded Urea increased wheat yields, Patrick Gethin, Stephen Loss, Frank Boetel, and Tim O'Dea, CSBP futurefarm
8. Flexi N is as effective as Urea on wheat and canola, Frank Boetel, Stephen Loss, Patrick Gethin, and Tim O'Dea CSBP futurefarm
9. Why potassium may reduce cereal leaf disease, Noeleen Edwards, Agriculture Western Australia
10, Trace elements, Wayne Pluske CSBP futurefarm, and Ross BrennanAgriculture Western Australia
11. Historical Nutrient Balance at Paddock and Whole Farm scales for typical wheatbelt farms in the Dowerin - Wongan Hills area, M.T.F. Wong, K. Wittwer and H. Zhang Precision Agriculture Research Group, CSIRO Land and Water
Recommended Citation
Reeves, T G, Rajaram, S, van Ginkel, M, Trethowan, R, Braun, H, Cassaday, K, McIntosh, R A, Loughman, R, Brennan, R, Bolland, M, Rengel, Z, Isbister, D, Blackwell, P, Bakker, D, Hamilton, G, Houlbrooke, D, Spann, C, Rowe, D, Gethin, P, Loss, S, Boetel, F, O'Dea, T, Edwards, N, Pluske, W, Brennan, R, Wong, M T, Wittwer, K, and Zhang, H. (2000), Crop Updates 2000 - Cereals part 1. Agriculture Western Australia, Perth. Conference Proceeding.